Do you have a passion for dogs and eager to learn training methods?
Image
Our friendly doggy day-care company is looking to recruit a new team member.
At our beautiful outdoor site in Ockham, we've invested a huge amount in facilities including heated indoor area, sensory garden and agility equipment to make sure our doggy clients have a fantastic, stimulating time while staying with us.
Job Type: Full-time (Mon-Fri), Part-time (3 days per week)
Job requirements for full and part time positions
Part of your role will involve driving a liveried van to pick up and drop off our dog clients from their homes in Wimbledon, Earlsfield, Putney, Southfields, Raynes Park and New Malden. Driving will account for approximately 40% of your time. When picking up, dropping off, you will be an ambassador for our company, so it is critical you are friendly, polite, responsible, punctual and organised with our human clients as well as polite with other road users.
The rest of your time will be spent on site with our dogs, playing, walking, training, cleaning, cuddling, towelling off mud and picking up poop – in all weathers! Obviously, experience with dogs would be highly desirable but not necessary. You will need to be playful and kind and as well as patient and firm, and always prepared to learn. If you are studying dog behaviour this is perfect to implement your learnings.
The role is hard work but immensely rewarding! We are looking for someone who can really commit and help the company grow and develop, while maintaining our strong reputation within our community. Not only are you are guaranteed to learn a huge amount, but working with dogs is a privilege and fantastic fun.
You must:
Live in or near South West London, ideally within 5 miles of our pick up areas
Have a full, clean driving licence 
Be over 25 years old (insurance regulations)
Love dogs, of course, and ideally have some experience with them
Be professional, polite, punctual and highly responsible, with a can-do attitude
Be able to have dogs stay in your home
Enjoy working in a small team
As a part-time employee you will be contracted for 3x days per week, however there will be additional hours available to cover sick and holiday leave; as well as potential to develop role. In additional to the contracted hours all staff need to be able to have the facilities to board dogs at home or at clients' homes on occasions, which can include weekends.
Image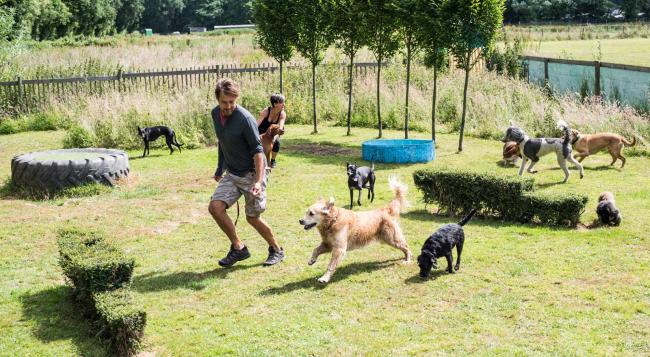 Interested?
Please send a CV and short covering letter explaining why you are interested in our role, if you are able to have dogs stay at your home, your age (for insurance purposes) and your postcode.
Please email your application and details to info@dog-stroll.co.uk.
Due to time restraints, we will only respond if you have the required experience.
We look forward to hearing from you!